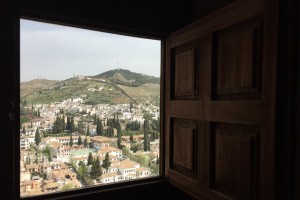 Spoiler alert: no cats
I'm not sure if cat people and the infamous TV show "Game of Thrones" have any relation but oh boy, I love the show. At the planning stage of our Spain trip, my mom was trying to get me excited about some old castle in Granada, Andalusia and I was indifferent (yep, that's me being ignorant about the world history and all). But when my friend said that this palace was being scouted for the shooting of Game of Thrones Season 5 as well, I knew there must be something special about it (although in the end, the crew chose to film at The Alcazar in Sevilla).
We took a morning bus from Sevilla and arrived at the site hours later. We got a package with a tour guide assigned for a group of about 10 people, the downside of this was that we couldn't control our own time during the visit as we had to stick with the group. Personally, I think that it would be better if we get to stroll at our own pace to soak in the vibe.
Alhambra is grandiose and exquisitely unique, much different from palaces in England or Germany. The architecture creates a charismatic dimension that compliments the sun shining through and the mountains in the background. No wonder why this palace has become an inspiration for many stories. I could imagine myself waking up watching the sunrise, floating down the aisles, having breakfast in the Moorish garden listening to the running water and smelling the orange trees and wild flowers. A true paradise on earth. Then suddenly, the alarm clock goes off and I'm back stuck in a 1.5-hour traffic in Bangkok haha. I still love my life nonetheless.