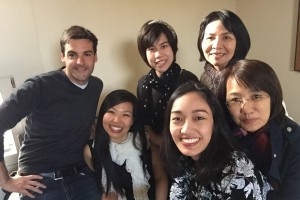 Barcelona, oh, Barcelona. In the beginning I didn't know what the fuss was about with this capital city of Catalonia in Spain that people are so obsessed with but I was blessed to be waking up in Barcelona on my birthday this year. Big shout out to my birthday crew: mom, Sai, Ploy, Na Aom, and Carlos for making it so awesome!
We set foot at Passeig de Gràcia, which reminds me of Champs-Élysées in Paris, to see Casa Batlló, our first encounter with Antoni Gaudi's work. This strange looking building appears like a cartoon house among luxurious shops, then we saw Sagrada Família church which is even more other-worldly. The details inside the church are amazingly captured, the architecture that is unlike any other, the stained glasses, the colours, the touch of nature in the design, and the fact that it is still incomplete makes the story-telling even more colourful. I can only wonder what was going on in Gaudi's mind and how he could come up with such a unique style. We strolled along Park Güell for more of Gaudi's. The hike up the hill was tiresome for us Asian tourists but we survived! Barcelona city view from the top was totally worth it. The architecture at the park including Gaudi's house struck me as unimaginable for ordinary people to create. Gaudi must be a god!
Barcelona is vibrant and bold. It is new and old, peaceful and busy. It's crazy! Walking in Barcelona made me feel like I got thrown into a pool then got lifted up to the sky. The walk from the Olympic Harbour to Barcelona beach was full of lives with seaside restaurants, rickshaws, sand arts, and laughter. And the best part is to get lost in the Gothic Quarter, literally lost, just walk without map and let the alleys take you to the old world of art galleries, shops, tiny cafes, street performers, lovers holding hands, you name it. There are wonders to be discovered in every corner.
Seriously, who wouldn't love Barcelona? Oh and we didn't get pick-pocketed in the subway, how lucky were we?