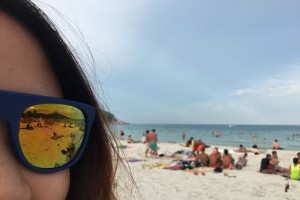 Not much introduction is needed for Koh Phangan and its infamous Full Moon Party. I find that people have different views about this island, some think it's sketchy, dirty, and full of sex, drugs, and drunken backpackers. If those things are what you are looking for, well, sure you can find them there, but I think that if you bring out your sense of curiosity, Phangan has other things to offer too 😉
Now, the essentials, best way to get there, in my opinion, is to take the overnight bus from Khaosarn Road to connect to the ferry that goes directly to Koh Phangan. The total journey took me slightly less than 12 hours but you can save one night of accommodation and arrive precisely in the morning on the island allowing you to have a full day to rest/explore until the party time. For accommodation, I recommend to stay within the walkable distance from the party so it wouldn't be such a struggle for those who have to drunk-walk back in the morning.
This trip was meant to be 'girls gone wild' (not really) kinda journey with my besties. OK, we did go to the pool party (2 nights before), Jungle Experience (the night before), and the 'anticipated' party. But we felt that the most fulfilling experiences we shared on the island were everything else beside the Full Moon Party. Those moments were the times when we got to lay in bed in the afternoon not worrying about getting up early for work, the evenings we sang songs together getting dressed up for the party, the discovery of a private beach just a short walk from Haad Rin where we sunbathed and took shameless selfies, including cats and dogs.
They say sunrise on Haad Rin is one of the most beautiful but I'd say, it's the people whom you share the experience with that make it even more beautiful and memorable. Thank you Phangan for such an awesome time!