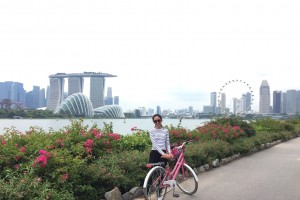 Initially, the bike tour was thrown into my SG itinerary solely because I wanted to see the celebrity otter family, the Bishan 10. Yes, apparently my interest (apart from cats) covers otters as well. Their sighting reflects the island's successful attempt to conserve the environment around Marina Bay area.
Bad news first, nope, I didn't spot them during the 3-hour bike ride, but I still came back with a big smile on my face! Singapore is a perfect place to bike. We started riding from the Parliament House along the river, pass the luxurious and festive The Fullerton Hotel, the touristy Merlion, cross over the Helix Bridge, then pass Marina Bay Sands, Gardens by the Bay, to Marina Barrage overlooking the sea. I love how everyone can enjoy different spots along the way, either you come with your kids to Children's Garden or with your partner to dine by the bay, this route lets you exercise and escape the city buzz all at once. After crossing Marina Barrage Bridge to the other side, you will see major Singapore landmarks in one panoramic view. Too bad there was a construction going on at the time causing dusts and noises, I think this is why the otter family didn't come out!
Biking is an alternative way to see any city up close for people who don't easily get sunburned 😛 If you stop by at The Bicycle Hut to rent a bike, you will be greeted by the two giant guarding cats! These cats are unlike the strayed ones I see in Bangkok streets, they seem much healthier, even muscular, and come in a bigger size! Notice their tipped left ear, it shows that they have been sterilised and can no longer reproduce which is a part of Trap-Neuter-Release-Manage (TNRM) program for community dogs and cats in Singapore. Basically, it is the way they control the animal population while still letting them live their lives freely. I really wish we could have this kind of programs in Thailand one day.
I'll definitely be back in Singapore for otter sighting (hopefully, a successful one this time) and more sterilised street cats!