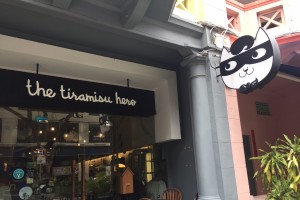 Being an Asian that I am, cafe hopping to take cute photos is our national (and regional) pastime…and Singapore surely doesn't fall short of it. These cafes are a perfect pit-stop to get away from the daytime heat and recharge for your next exploration in the merlion land. What's more exciting is when you come across a cat-themed cafe!
The Tiramisu Hero is a cafe that cat lovers can't just walk pass, although there aren't really any cats around. It is slightly hidden from the main road in Jalan Besar, not far from Chye Seng Huat, a hip coffee shop in an old hardware store. At the front door, you'll be greeted by Sir Antonio, a white cat mascot who possesses Elvis hairstyle with a black eye mask and cape – our hero! Once you step inside the cafe, everything is picture-worthy, from the dreamy wall-to-ceiling decorations, the menu, the toilet signs, the cakes, and a giant Sir Antonio head mock-up that you can goof around. The crowd is also people watching-worthy, there are a loud Thai tourist group taking pictures of everything (…guilty), a young mixed-race couple on their first date (not that I eavesdropped them or any of that sort), and a few tables of normal people stopping by for an afternoon caffeine fuel.
The experience doesn't just end at the cafe as the story of Sir Antonio and super cute illustrations can also be found on their website. Plus, did you know that tiramisu means "pick me up" in Italian? Sounds like a slogan for cats!