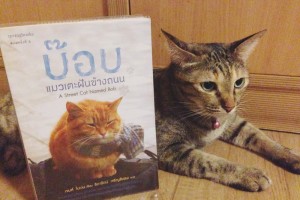 I know lots of people say cats are evils, cats aren't loyal, but I'm positive that those people will change their mind after reading A Street Cat Named Bob. Bob was a strayed orange cat that came into James's life and completely transformed it. James was a homeless and a drug addict who used to live on the street with no purpose in life but once he decided to take Bob in, he was able to get up on his own feet and became a better person.
The book was told in a simple way with an easy storytelling style. There's no magic like in Harry Potter but the heart-warming feeling is definitely magical. I like how readers are able to see through the eye of a homeless man. His thought process is simple, uncomplicated, and genuine, despite the fact that he literally had hit the lowest point in his life, he could still keep his goodness and that is very admiring.
There is a part in the book where James talks about how when people look at him he knows deep down that they are looking at Bob but he doesn't mind because Bob really is special to him. Because of Bob, James tried to work harder to earn more money so he can afford food for two. He stopped begging for money on the street and started making financial plan. He learned how to take care of another person in his life. He learned to love. It made me realise that in life, what you need is just someone or something that makes your life more meaningful and worth living for, be it a person, a dog, or a cat, and you will feel that anything is possible. It gives you power.
If any of you happens to be around Covent Garden or Angel in London, please let me know if James and Bob are still there!