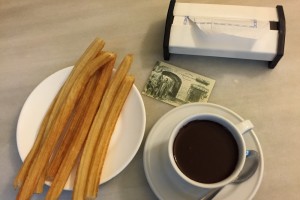 In Thailand, the month of April is usually the fun month when you actually don't have to work that much since it marks the Thai New Year so we, office people, can take long holiday without feeling guilty. I have a privilege to take a whole week off at work for a trip to Spain with my mom and my best friends. Our first stop is Madrid.
My impression about Spain is that everything is colourful even their airport, usually we will see a state-of-the-art metallic design but here they are not afraid to be bold! We chose an apartment near Puerta del Sol Square which is in a walking distance to all major places like Gran Via, Plaza Mayor, El Rastro Sunday market, Mercado de San Miguel, Royal Palace of Madrid, and Parque del Retiro.
Puerta del Sol – very similar atmosphere to Piccadilly Circus in London linking all the main shopping streets leading to Gran Via. There is a classic Apple Store building, a statue of the Bear and the Strawberry bush (madroño) that everyone has to stop by to take a picture with, and street performers dressing up as a goat, Alien, and Winnie the Pooh cheering everyone up. The metro station is named Vodafone Sol and that's one huge publicity for the brand.
Gran Via – again, reminds me of Oxford Street in London. It has all the popular brands where you can literally shop till you drop. Spain is simply a heaven for fashion. You just can't get enough! The clothes are affordable, functional, and inspirational. Step inside a shop like Zara and you have to decide how much money you want to spare for food later or none at all so you can get that gorgeous blouse.
Plaza Mayor, El Rastro Sunday market, and Mercado de San Miguel – from Plaza Mayor, you will see tons of cafes with people sitting in the sun enjoying their day. Drop by Chocolatería San Ginés for chocolate con churros and you can thank me later 😉 (credit to my mom who found this place). On Sunday, El Rastro market is where you will find hundreds of shops with locally-made goods and some not so local but it is still cool to see the sea of people anyway. Mercado de San Miguel is nearby and it's a foodie heaven. We discovered a yoghurt stall where Prince Charles once visited and it's just amazing! I highly recommend liquid yoghurt with mango topping. You can also find tapas, paella, jamon (ham), seafood, sweets, you name it! A little bit overpriced but worth soaking in the mouthwatering atmosphere.
Parque del Retiro – ahhhh the park, Spain has something magical about its parks. Only if I could just live there. Because it's spring time so the weather was especially lovely. People bring out their cute dogs for a walk, families paddling the boat in the lake, lovers making out making everybody else jealous, friends playing football…what a life! Comparing to the parks here in Bangkok, Parque del Retiro is grand and surprisingly calm. It has big tall trees, small palaces inside, playgrounds, benches, cafes, and people there are just happy people. I love love love this place!
Salamanca District – an area where I stumped upon without planning. The neighbourhood is full of posh mixed with lovely small shops. Walk along the inner streets and you will spot many unique window displays and buildings like those out of the movies. There were less tourists comparing to Gran Via, a great chance for you to watch office people taking their lunch break at bars and cafes.
So that's my diary of Madrid with no cats in sight…wehhhh. Next stop: Sevilla!