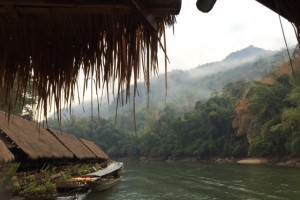 Winter in Thailand is a perfect time to travel. And what I meant by 'winter' is a temperature of around 25-27c 😛 So last weekend, my best girls and I went on a jungle trip to Kanchanaburi where the renown Bridge on the River Kwai is. We sailed upstream through the river to The River Kwai Jungle Rafts, a hideaway spot that came to our surprise as a gem in the jungle. The rafts are down-to-earth but convenient enough even though there is no electricity (meaning no hot shower) nor phone service which is a perfect therapy for us city girls.
Main activities are sitting by the pier, jumping in the river, floating downstream then getting out at the end of the rafts, and repeating. One hour had passed and without our phones to be glued onto, we felt like three. Luckily, behind the Jungle Rafts, there is a Mon Village. These people are originally from Myanmar who live an ordinary lifestyle in a house made of bamboo. There were little shops with local products, a football field, a temple, an elephant and dogs. And as you can expect, the Curious Cat Lady ran into cats! There were two kitten, one in orange, the other in white, playing and climbing the tree. I couldn't resist but to walk up to them and say hi! We ended our day with a nice candle-lit dinner and a shower in the dark. It was so quiet I could hear the voice in my ears.
The next day we visited the Death Railway that leads to the Bridge on the River Kwai. The view is breathtaking but considering the history of how this railway was built, it is a bit sad that such tragic had to happen in such a beautiful place. If you have a chance to go there, they even allow you to walk along the railway but  please be reminded that the trains still operate on this bridge so look out for the horn!